Sale!
Thermapen® Professional Thermometer Mk4
$189.00
or 4 payments of $39.75 with
 Learn More
The Thermapen Professional thermometer (formerly known as MK4) is a state of the art digital cooking thermometer. This professional quality instrument is so fast that it's commonly referred to as the "Lamborghini" of food thermometers.  New features make the Thermapen MK4 better, faster and easier to use than ever.
Patented, automatic 360° rotational display
Readable display in the left or right hand
Auto intelligent backlight
Waterproof to IP66/67
Improved battery life of 3000 hours
Made in England
*Bonus Offer – Purchase one of our NEW Ironstone Grand Series Knives for $99 (RRP$179) when you order a Thermapen MK4. Special offer for a limited time only.
Product Description

Made by hand in England, the Thermapen Professional Mk4 is faster and more accurate than any other cooking thermometer on the market.
It used advanced technology and includes a number of innovative features.

The patented 360° self-rotating display can be used in any position, in either hand. The unit incorporates an intelligent backlit display sensing light levels, automatically turning the backlight on/off in varying light conditions. The motion-sensing sleep mode automatically turns the Thermapen Mk4 on/off when set down or picked up, maximising battery life – 3000 hours in normal use.
The casing is washable and includes 'Biomaster' additive that reduces bacterial growth and the ergonomic rubber seal minimises the risk of the ingress of water, dust or food.
As well as being waterproof to IP67/67, it is still 'probably' the fastest reading contact thermometer on the market today . The true temperature of a product can be tested in just three seconds. The Thermapen Mk4 incorporates a reduced tip, stainless steel, food penetration probe (Ø3.3 x 115 mm) that conveniently folds back through 180° into the side of the instrument when not in use.
The Thermapen 4 is powered by a single AAA battery with a life expectancy of 3000 hours in normal use, without the backlight. Both low battery (icon) and open circuit indication are displayed, when applicable. Each Thermapen 4 is supplied with a FREE traceable certificate of calibration.
The SuperFast Thermapen 3 was the UK's number one selling food thermometer – and now it has got even better with the new SuperFast Thermapen 4. The Thermapen 4 measures temperature over the range of -49.9 to 299.9 °C (-58.0 to 572.0°F) and offers the perfect combination of speed, accuracy, and convenience of use.
ACCESSORIES
WARRANTY INFORMATION
With care your new Themapen should give many years of reliable service. The Manufacturer extends a 2 Year Warranty on the device and a 6 Month Warranty on the Probe. It is important to remember that the probe is a very sensitive instrument. Things which can damage it include, pushing it into frozen meat or actually holding the tip of the probe on the grill surface.  Please read ETI's  Product Guarantee Terms below.  In the event of a Warranty Claim, please contact The Perfect Steak Company first. We will advise how best to proceed. Important additional information is also shown on our Warranty's Page.
The Product Guarantee does not cover damage caused by fair wear and tear, abnormal storage conditions, incorrect use, accidental misuse, abuse, neglect, misapplication or modification or use with non-ETI Hardware or Software.
PDF Downloads
Additional Information
| | |
| --- | --- |
| Weight | 0.30 kg |
| Dimensions | 23 × 16 × 4 cm |
| Colours | Black, Blue, Green, Grey, Orange, Pink, Purple, Red, White, Yellow |
What makes the Thermapen so fast compared to other thermometers?
The main reason is the professional thermocouple technology that we use instead of mass-produced thermistor technology. Thermocouples are recommended by the most food standards agencies for measurement of cooked meat products and thin portions. We also use a reduced-diameter needle tip on the probe. Comparable professional meters cost £140 to £300 for the electronics and a similar probe! 
How long should my Thermapen's batteries last?
Thermapen 4 battery life is 3000 hours. In the battery compartment you can enable and disable the auto-off feature. The auto-off feature will extend the life of the batteries. See your owner's manual for details.
Will the Thermapen tell me when my meat is done?
Not exactly. Instead it (very quickly) tells you the actual temperature and you decide if that is "done". We can give you the guidelines for food safety but you should consult your favorite cookbooks, TV shows and recipes for advice not only on safe temperatures but the best cooking temperatures for flavour and texture. Also remember that individual preference is very important.
Where should I place the probe tip to see if it's cooked?
When testing if your meat is cooked, the coldest part will be the very center of the thickest portion. With larger foods, you can take quick readings with your thermometer in several locations to verify that the entire portion is done. If you are chilling a food, the center of the thickest part will be the last to cool.  Penetrate the food you are checking with the probe and place the very tip of the probe where you want to measure.
I've seen cheaper thermometers, why pay more for a Thermapen?
In use there's a big difference. Don't take our word for it. Check our reviews to read the many reasons written by others. Cheaper thermometers are limited by the technology that they use. These can be mass produced for just a few pennies to a few pounds. On the other hand, the Thermapen is hand-assembled and hand-tested in the UK and uses a professional thermocouple circuit design. This design costs more to make than cheaper, less capable thermometers.
Biomaster protection

Biomaster antimicrobial technology is incorporated in the majority ETI products during the manufacturing process, ensuring lifelong protection against the risk of bacterial cross contamination. As well as being harmful to health, outbreaks of food poisoning can damage brands, and the reputation of stores, food producers and restaurants.
The risk of food-borne contamination is widespread, existing in restaurants, bars, hotels, supermarkets, hospitals, schools, aircraft, cruise ships and your home. Anywhere where food is made, prepared or eaten.
Biomaster treated products have been proven to reduce the growth of food borne bacteria such as E.Coli, Salmonella and Campylobacter by up to 99.99%, so by choosing an ETI product with Biomaster additive, you are protected 24 hours a day, every day.
What is Biomaster?
Biomaster Antimicrobial Technology is the leading range of safe, effective and permanent additives for the control of harmful bacteria, making any surface cleaner and more hygienic for its entire lifetime.
Proven to quickly reduce bacteria by up to 99.99% Biomaster is an effective means of reducing the growth of MRSA, E.Coli, Salmonella Campylobacter, Legionella and over 50 other species.
Incorporated into the body material of your ETI product, Biomaster becomes an integral part of it, providing durable, lifelong protection against the threat of cross contamination. 
How does it work?
The active ingredient in Biomaster is silver. Silver has been used in its pure form for many centuries to prevent the growth of bacteria.
Incredibly durable, long lasting and highly active, when Biomaster is added during manufacture it is dispersed throughout the product casing, will not wash off and will last for its entire lifetime. Biomaster provides antimicrobial protection without allowing bacteria to develop resistance.
Biomaster has 3 different modes of action:

Silver ions bind to the cell surface; 
This disrupts the cell and prevents cell growth.

The silver ions are attracted to the Thiol groups in the cell enzymes; 
This prevents the bacterium producing energy.

Silver ions interrupt the cell DNA; 
This prevents DNA replication and new cell formation.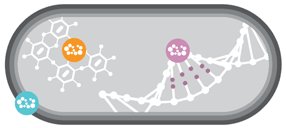 The Biomaster 3 stage mode of action does not allow bacteria cells to develop resistance, making Biomaster future proof and highly resistant against antibiotic resistant species such as MRSA.